Come, see, stay and enjoy in a short duration
Rs.4200 per person (min 5 persons)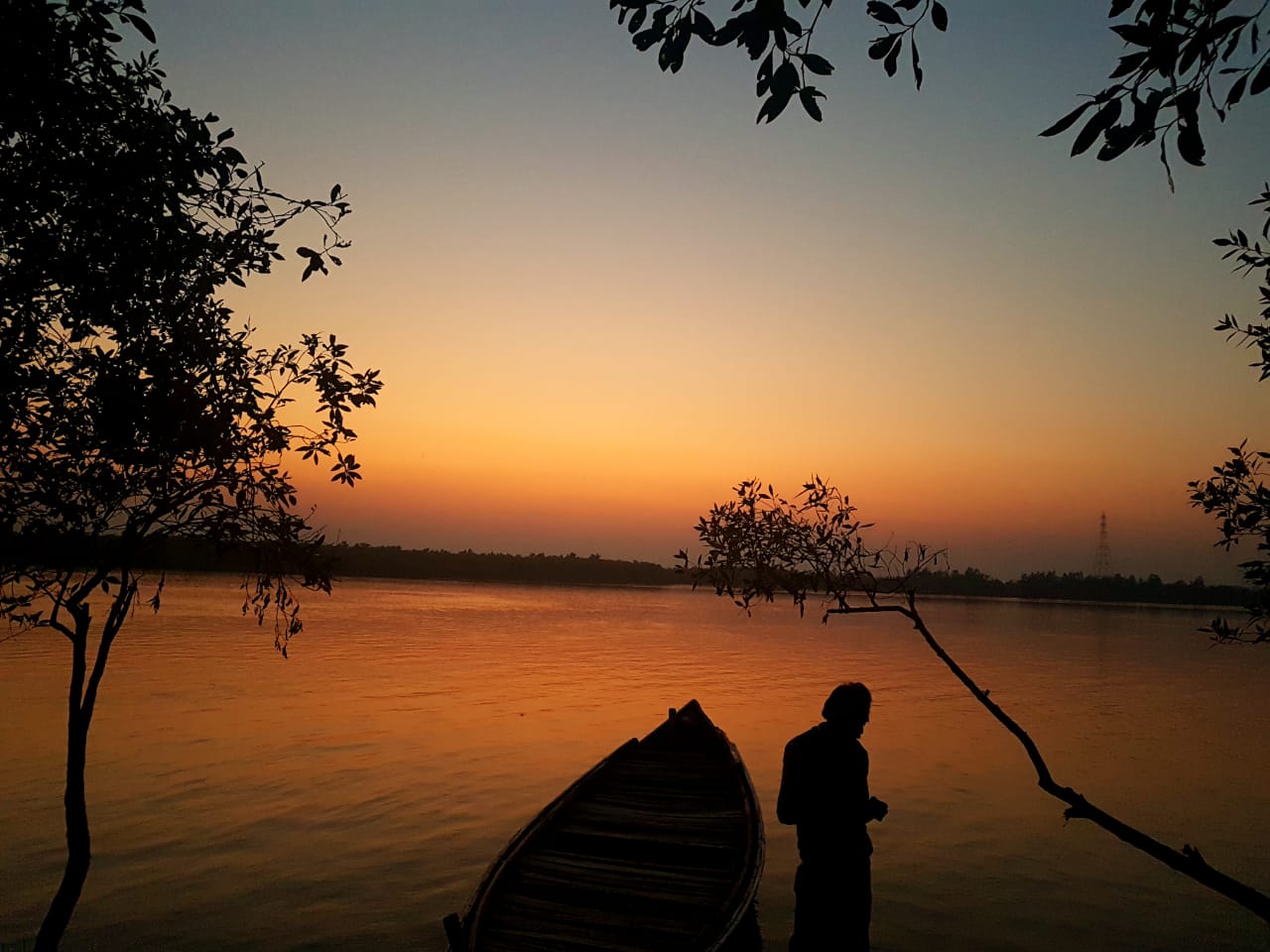 What to expect and what not to
The one thing that the majority of the Guests expect is to see a Tiger which actually shadows all the other Offerings of Sundarban. Since Sundarban is home to the Royal Bengal Tigers one can surely expect to see it however the Irrawaddy Dolphins, the Estuarine crocodiles, wild boars, spotted deers , Otters, resident and Migratory birds , the micro organisms like fiddler crabs, mud skipper fish , Horse shoe crabs which is from the age of Dinosaurs, are as intriguing as the Tiger.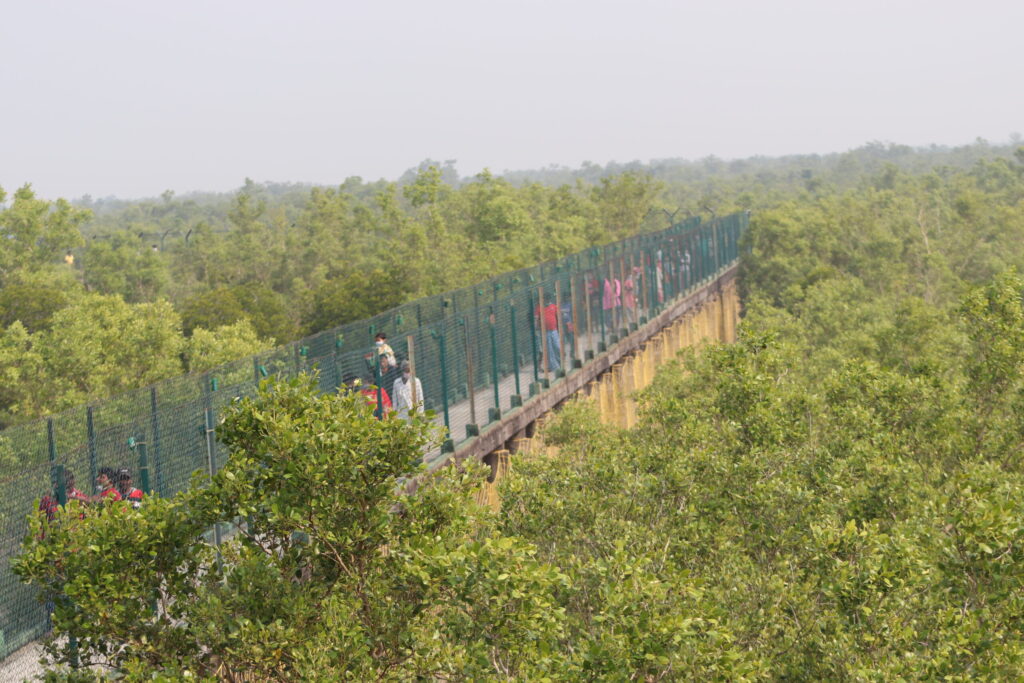 Personally my favourite amongst all is the mangrove jungle which covers itself during high tide hiding everything in its belly and revealing itself during the low tide giving us a glimpse of its inhabitants.
This eternal play of low and high tide is something that gives us a glimpse to the very evolution of life form on our Planet.
8AM : We Meet you at our office situated at 4 tottee lane and leave Calcutta by car/van/mini bus towards Godkhali, the last road point before the mighty sundarban jungle is only navigable by waterways. Three and half hours of journey to Godkhali.We will have washroom break in between.
Guests can also avail pick up from Science city pick up point at 9am.
9am: Breakfast of veg sandwich will be served.
12 noon : There are 2 ways of reaching our eco village from Godkhali.
Cross over to the island of Gosaba, which is the biggest market for hundreds of villages around and then take a auto rickshaw to the River bank of our eco village.(takes approx one and half hours.)

Take direct engine boat to eco village.(takes approximately  two and half hours to three hours depending on Tide)
We will decide which way to take depending which will be faster and easier on that particular day.
1.30PM to 2.30 pm : Reach our Eco village abode, on the island of Satjelia, followed by lunch with simple home cooked VEG/NON-VEG food comprising Rice,dal, 3 types of vegetables, papad chutney salad and fish curry.
3.00PM : A walk through the picturesque  paddy fields, the village of honey collectors and fishermen, looking out for local rituals and beliefs. Most striking are the smiles that is shared between the hosting villagers and the Guest of Eco village.
3.30PM : Country boat ride for bird watching, during one to two hours, spotting seven types of Kingfisher, Egret, Brahmani eagles, Pond heron, Cormorants etc and above all getting introduced to the lovely mangroves, with surreal creatures like fiddler crabs, mud skipper fish etc and witnessing Gorgeous Sunset by the river.
6.30PM : Return to the eco village, just after the sunset and you will be welcomed with Black tea and freshly fried  veg Pakodas. 
7PM : We will have local music session or the famous local play of sound and light called 'Bonobibi Pala' depicting the battle between the jungle Goddess Bonobibi and the Tiger incarnation 'Dakhin Rai', along with snacks and herbal tea. You can also engage yourself in the night photography of the sundarban sky which is lit up with millions of celestial bodies. 
8.30-9PM: We will have Dinner and prepare ourself for a surprise activity which is the highlight of our tour and will be revealed during the tour. Though this is an optional activity we highly recommend it. This activity will leave you mesmerised and in awe of nature and Sundarban in particular.
6.30AM: We try to start as early as possible, on one of the four personalised engine boats(Elmar, Para siempre, Clandestino and Mangrove Mataal), get the required permissions from the forest office, which is just opposite to our village, and head off into the jungle, for our rendezvous with one of the biggest mangroves of the world, rich in flora and fauna.
This boat cruise will last till sunset and during this period we will visit 3 watch towers, namely Sajnekhali,Sudhanyakhali and Dobanki.
1.30 pm Lunch will be served.
Cruising the small channels and creeks we will try to spot different wildlife, spotted deer, wild boars, civet cat, monitor lizard, crocodiles, dolphins and of cos the ROYAL BENGAL TIGER.


4.30 pm. Small snacks with tea.
Reality check about this tour
 It is Definitely worth your time and effort.
One day tour (minimum 6 people or the cost equivalent)
One night two days(minimum 5 people or the cost equivalent)
Two nights three days (minimum 4 people or the cost equivalent)
Just stay Eco VIllage Organic cottage
On a twin sharing basis which includes one breakfast, one lunch and one dinner along with unlimited bottled water and chai.(2 HEADS)
Just stay Eco VIllage Premium room
On a twin sharing basis which includes one breakfast, one lunch and one dinner along with unlimited bottled water and chai.(2 HEADS)
Three nights four days trip, Private tours of any category and Educational trips