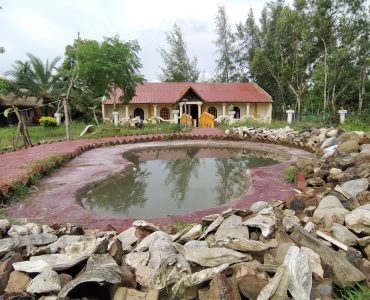 The twin sharing room includes one breakfast, one lunch and one dinner along with unlimited bottled water and chai. (2 HEADS)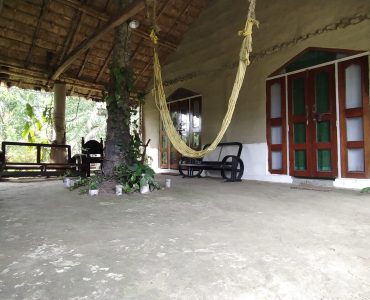 The twin sharing room includes one breakfast, one lunch and one dinner along with unlimited bottled water and chai. (2 HEADS)
Eco village is an experience, is an escape and is in true synchronization to the Sundarban tour, created and curated to give you a wholesome experience for your stay.
As for the guest it gives the right Vibration of community living , countryside life , out of the box experience , all with the creature comfort you need.. The stay
Eco Village is a collective vision of different kinds of people visiting us on our tours. watchtower
Recently we have created a watchtower at our Eco village which gives you a breathtaking view of the Sunrise from the village side and Sunset from the River side.
"You can check out anytime you like but you can never leave !!!"
Eco Village is a collective vision of different kinds of people visiting us on our tours.The idea was clear and the implementation helped us to evolute in the direction that we always dreamt of. A space which will keep the essence of the local surroundings and have the required comfort that the guests need.Finding a place which has a scenic beauty and the logistics to create the desired space was not so difficult since Sundarban is geographically beautiful. We just had put two and two together,however to maintain such an organic place is an ardent task. The annual cyclones , the salt water and the difficulties of being on an Island makes it financially challenging, but the reward of being able to continue keeping it afloat  weighs more than our labour of love. >We started our tours back in 2006 and due to the innate craving of a space like the Eco village , In 2012 we consciously and meticulously started creating it on 4 acres of land  just beside the Dotto River and opposite to the Jotirampur Bird Sanctuary.This space is surrounded by tribal villages on three sides and river on one side, making it the perfect spot to be in the midst of mangrove and enjoy the scenic beauty of the villages too.
Ten years down the line an empty piece of land has turned into a lush green patch of green with atleast 60 different species of timber , flowering and fruit trees , with farm animals, resident /nesting birds and an Eco- System which supports the harmonious life amongst its residents.
Nestled in the lap of nature we have 20 very simple huts and cottages made with natural local materials like mud, wood,hay ,granite flooring, which helps it control the extremity of weather conditions..the cottages itself are double bedded, triple and four bedded too with proper fans lights and western  styled washrooms. Cleanliness and hygiene remains the First priority. A lot of guest have their basic concern of either the cottages being too hot in summers and too cold in winters however we would like to point out that when a cottage is built with local materials it becomes naturally temperature controlled. The other concern is about bugs in the organic cottage(which is rare) however  for those who are phobic about crawlies we have created 6 premium cottages in concrete with boutique-hotel stay and they have geysers in their washrooms too.
Overall the architecture  is non offensive to the local villages hence it builds a very deep rooted synchronisation between the Eco village and the local community around it..At present 30 local villagers are involved in running the Eco Village hence creating an environment which enables a first hand interaction between them and the Guests. The local folks feel motivated to work in an environment which gives them an opportunity to meet and interact with guests from all over the world and share their life stories. Every time you take up such a tour as ours you enable the villagers to work and earn their livelihood respectfully in their backyard ,than to migrate and work in  big cities pitifully.
One day tour (minimum 6 people or the cost equivalent)
One night two days(minimum 5 people or the cost equivalent)
Two nights three days (minimum 4 people or the cost equivalent)
Organic cottage Twin sharing
Premium room Twin sharing